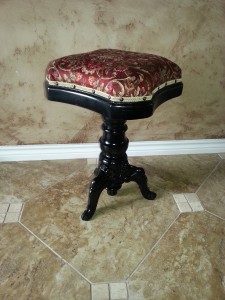 We found it, another dusty treasure! This one was found in a dusty corner of an attic. Hubby used to lay on it superman-style and spin when he was a little boy, visiting his grandparents. Grandpa used to sell pianos for awhile, so we think it was from those days. Based on the style and finishing materials, we have it dated in the 1900s.
When he found it, it was in pretty rough shape. The wooden base was peeling and chipping from the extreme temperatures and humidity. The iron legs were rusting and pitted and the fabric had holes that let the sawdust padding poke through. Having lost its usefulness, it had been discarded to the attic to collect dust.
This was a weekend project. Hubby stripped and sanded the base. He decided not to stain it since the wood grain was not pretty. Instead, he painted it in the black it had been. Then he wire-wheeled the cast iron legs and sprayed those to match. Finally, we hunted down fabric to re-upholster the seat pad. (We replaced the sawdust with a foam pad, but we may go back to the original, we kept it in case we want to have that option.) It turned out GREAT and looks so perfect with my sewing machine!