It started when the Imp needed a table for her room. Thinking outside the box, she found a sewing machine that folded under to make a lovely wood table for her typewriter. The sewing machine mechanism had seized, so she was able to get the table/machine combo for a great price. Hubby tinkered with the machine and had it oiled, cleaned, and running in less than 4 hours. This will be something that she can pass down to her children. The machine is close to 100 yrs old!
With that victory, hubby set out to find me a machine. (I wanted a treadle, not electric.) The hunt began. Combing through Craigslist and estate sales, we spent our weekends wandering through antique warehouses. Hubby found a machine without a treadle cabinet. He cleaned it and got it working again. We planned to put a hand crank on it until we could find the cabinet.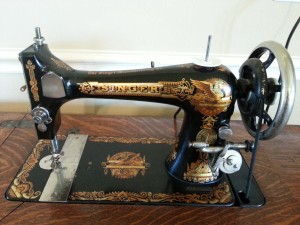 Instead, he came home from a Craigslist adventure with a cabinet and another machine to use for parts.
The wrought iron was in good shape, so he added the color details I asked for.

Then he stripped and cleaned the wood, repairing the laminated edges. After that, he stained and oiled the wood until the grain pattern popped.
We aren't done with the drawers yet. He is planning to do some wood repairs and then clean and stain them, but it looks so much better, already!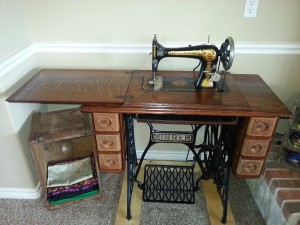 I've repaired 2 leather purses, hemmed 2 karate uniforms (tops and pants), and re-seamed a couple t-shirts. It is so cool to sew on something that was new over a hundred years ago!
Now we are looking for the perfect chair to go with it!