With the passing of both the cats so close to one another, things have been a bit off. The dog was raised by those cats and was beginning to show signs of loss. He has become neurotic about his bed and drags it all over the house. He looks everywhere for them still and seems lonely. We wanted another kitty, but needed some time.
Then, we found a little kitty living in the driveway drain pipe for 2 days. We thought she was a kitten and she was eating bugs to stay alive. We brought her in and fed her. We looked for her owners. We took her to the vet to get shots/fixed and see if she had a chip. She didn't…. and we found out she was pregnant.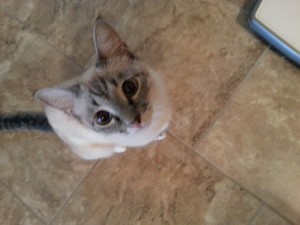 Meet Hadassah.
Homeschool Moment: Hadassah was the Hebrew name for Esther. Historically, Esther was King Xerxes' Queen. Our dog is named Xerxes (after Persian King). We found out the cat was pregnant (making her a "queen" in breeder lingo) so it fit.
Our small town vet still voices his disapproval for our pet names every time we visit. I told him about our friend, whose goldfish is named Theopolis … and explained that it's a homeschool-thing. The vet just shakes his head.
Our kitty is very pregnant. Lately, she is beginning to nest and is sleeping more and more. We expect to have kittens any day now!