Four days before Christmas, the Imp mentioned that she had a damp spot in the middle of her room. She noticed it a week prior, but had thought she had spilled water while cleaning her room. It wasn't going away.
Hubby went to investigate. Behind her dresser, the wall was bowing outward. The foot of her dresser was warping with water damage. We called the guy that plumbed the house. He cut a hole in the wall of her room. No leak, but lots of water. He proceeded to cut 2 more, convinced that the source of water would be the pipes from the bathroom that shared her wall. No leak found, just lots of water soaking the wall. We bleached everything and ran fans all night to try to trace the source of the water. By morning, everything was dry. By noon we had water again.
Hubby popped a tile in the bathroom to see how far the damage had spread. The Imp and I headed to the store. By the time we got back, the bathroom vanity and sink were removed and sitting on my porch, 1/2 the tiles were popped, and the toilet was sitting in the bathtub. I reminded Hubby that our guests would be arriving later that afternoon. Undeterred….He continued popping tiles and ripping up the Imp's carpet, he was on a mission.
Over Christmas, we ended up doing a forced bathroom renovation (While 7 people trudged through my bedroom at all hours of the night, to get to the master bathroom). The bathroom is almost done, hubby upgraded to travertine (type of stone) instead of regular tile and they (he and his dad) did a diamond pattern that turned out great! The Imp still has holes in her wall, but we have a sheet of drywall sitting in the hallway ready to go. (The Imp wants to use this opportunity to paint her entire room a new color or at least do textures and ragging in an accent color.) The unpainted trim boards are in the foyer, waiting to be cut, but the bathroom is put back together again and everything is dry and fixed. Yay! Eventually, we will replace the vanity to a smaller bowl and pedestal but that will have to wait for another paycheck.
Imp's Wall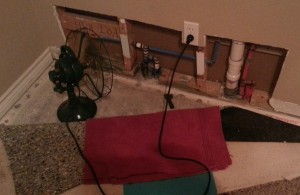 Gutted Bathroom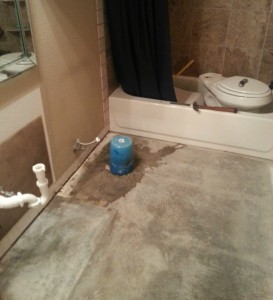 New Floor